Suppliers have the ability to review the document standards required when connecting with Retailers prior to submitting orders, acknowledgements, shipments, invoices, returns, or inventory. This tool serves as validation, where required fields and their descriptions are showcased directly in the Portal.
To view the validation rules, navigate to the left-hand side toolbar, and select Retailers. Select Document Standards from the dropdown that appears.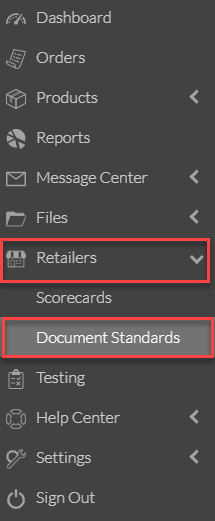 You will then see a section called Company which includes a dropdown with all of the retail partners. Once a retail partner has been selected, suppliers are then able to view the validation rules for the document of their choice.

As can be seen from the image above, validation rules are available for orders, acknowledgements, shipments, invoices, returns, and inventory. The required field is the first piece of information, followed by the requirement, and the details around that field requirement. The information provided in the details should be applied to the document.
Some of the required fields may be generated automatically by Logicbroker which will be indicated in the description, others will be more detailed providing all of the information needed to successfully send the document.
Let's take a look at how this information can be used by suppliers:
The supplier is sending a shipment and is unsure how the shipment number is used and if it is a requirement. After pulling up the validation rules for their partner, the supplier can see that the ShipmentNumber field (1) is required because of the red checkmark (2). The information also tells the supplier that the ShipmentNumber is used to identify shipments and prevent sending duplicate shipments (3).

This tool allows users to review exactly what is needed to send documents to their partners, what it means, and to help reduce failures when transmitting documents.