In order to integrate your eBay account with Logicbroker, you should do the following:
1. On the Logicbroker portal, you will have to log onto your eBay account by going to the Connections page, found under Settings.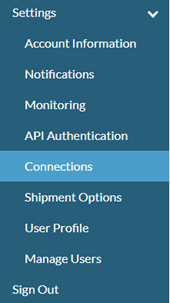 2. Under eBay, you will have to select which eBay environment to connect to. For testing, you can create test users and use them to access eBay's Sandbox environment.
3. Click Connect. Then log onto your eBay account and click I agree.

4. If successful, you will be redirected back to the Logicbroker portal and receive the following message.

5. Finally, if you have not yet done so, you will need to contact Logicbroker Support so we can add the configurations needed to complete this integration.
Connector Updates
| | |
| --- | --- |
| Date | Update |
| 2/23/2023 | Change the default quantity of new products from 1 to 0 - this change only affects new products created through product feeds (no changes for existing products, quantity is pulled from eBay) |