Audience: All users in Logicbroker.


The Events page gives users visibility into all activities within Logicbroker or a related system. Events can be informational such as a configuration update or they can be alerts indicating further action is needed such as a document failure. Some other examples of what events will show are: inventory imports, SKU mismatches, noncompliant documents, document status updates, errors for documents posting, order cancellations, and more.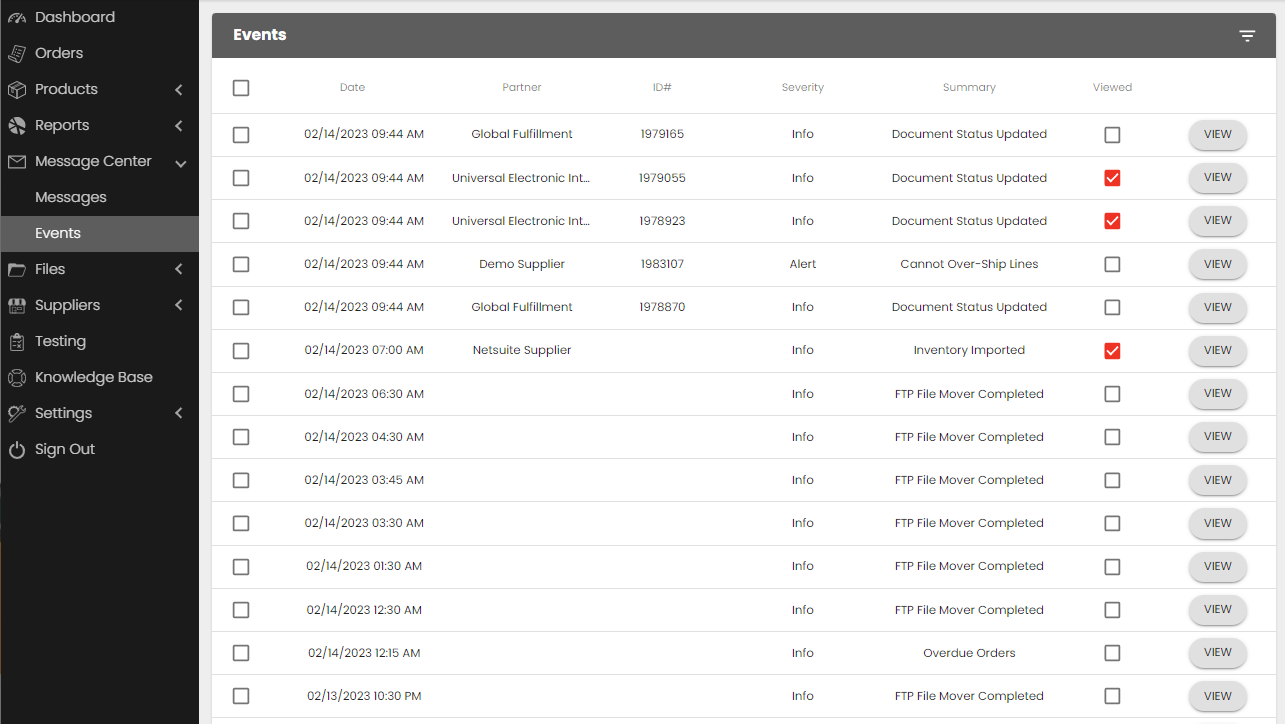 At a Glance
Date

Date and time (in your time zone) the event took place



---
Partner

The partner of the document transaction - this will be present if the event is relating to a document transaction
---
ID#

T

he

unique document identifier used by Logicbroker - this will be present if the event is relating to a specific document
---
Severity

T

he type of event - this will show you if it is an Alert or Info
---
Summary

T

he summary of the event
---
Viewed

An indication of whether an event was viewed or not - to mark as viewed either click on the viewed checkbox or click the View button
---
View

This button will display more details on the event such as users, file names, updates, the error and more
Display

Filter results

Click on the 3 horizontal lines in the top right to filter your results. Select the column you want to filter by, the operator, the results you want to display then click

Add

. Once a filter is added, you will see a button with that filter in the top left. Filters can be stacked, so add new filters or remove them by clicking the

x in t filter button up top.

Event Types
The list below will show all event types - the Summary column in the Events Page will show more specific information but all summaries fall into an event type.


Event Type
New Purchase Order Notification
New Shipment Notification
Order Sourcing Failure
Missing Tracking Numbers
SKU Not Found
Failed Login
Update Shipping Failure
CRM Notification
Tracking Upload Successful
Tracking Upload failed
Product Upload Successful
Product Upload failed
Monitoring Alert
New Invoice Notification
EDI Transmission Failure
Webhook Failure
Overdue Acknowledgment
Overdue Document
Manual Status Update
Order Cancellation
Failed Document Alert
FTP Activity
External XML Alert
Attachment Created
Attachment Acknowledged
Queue Job
Unknown EDI Document
Inventory Failure
Inventory Notification
Inventory Update Report
Inventory Exception Report
Overdue Inventory
New Order Acknowledgement
Document Aging Report
Flat File Import Notification
Flat File Import Failure
Manual Document Update
Validation Failure
New Return Notification
Return Upload Failed
Acknowledgment Upload Failed
Partner Notification
API Error
Score Card
Product Failure
Product Notification
Order Sourcing Report
Routing Instructions
Business Rule Failed
Scheduled Task Failed
GDPR Notification
Testing Complete
Manual Inventory Update
API Key Regenerated
Ship Method Mapping Updated
Catalog Failure
Catalog Notification
Custom Lookup Updated
Configuration Updated