This is the definitive guide for preparing an inventory file for use within Logicbroker. Before starting, it is important to note the following:
Inventory must be uploaded in CSV format (not xls or xlsx excel formats)
Inventory must use the Logicbroker specified column headers: SupplierSKU and Quantity
Inventory uploads are very simple, and only take minutes to complete. The first thing you will want to do, is prepare your inventory file for upload.
Here is the template you need to do so: Inventory Standard
The Logicbroker inventory feed is simple in that it only requires 2 columns: SupplierSKU (a unique product identifying field), and Quantity. You can see that in the file you downloaded from above, there are many columns. You may populate these columns with information, but the only fields used by Logicbroker are SupplierSKU and Quanitity. If you choose to populate the other fields (i.e description, cost, warehouse, etc.), we will transmit these fields to your retailers only if they require them.

Now that you have the template, make sure you save your saved file has the SupplierSKU and Quantity columns within it. Those can even be the only two columns within the file.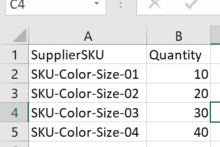 Note: If you use MS Excel to create your file, make sure that UPC codes, or long integer values are not saved in scientific notation, as this will cause the inventory file to fail to process. (Ex. UPC codes saved as 4.12345E+10 versus the correct 41234567009).
Once you have verified your file has the necessary columns, as well as data, you are ready to upload.
To upload your file, go to the Inventory Management page (Products>Inventory Feeds). From here, you will want to go to Files >Upload>Choose File. Choose the inventory file (CSV format) you just prepared on your computer. Once selected, click "Upload".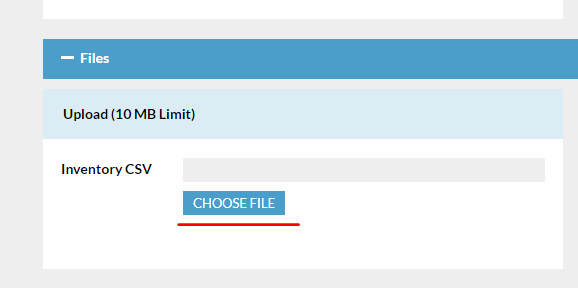 If your file conformed to the Logicbroker specification, you will see "File queued for processing". After a few moments, once the upload process has completed, you can refresh the page, and see if your upload was successful by looking at the "Events" section. If your upload was successful, the Summary column will have an entry that says "Inventory Imported", and the details will show who and how many records were updated.

This is important to compare with the number of records/rows that were on your file. If the detail says less records were updated than you anticipated, that may be a warning sign that something in your file is incorrect.
Note: Inventory uploads do not work on the OSX Safari browser.