To navigate to the Notification Configuration page, click your profile menu and navigate to Notification Configuration.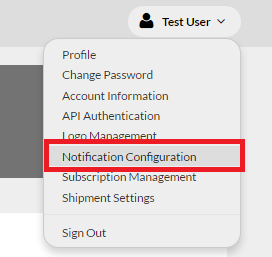 On this page you can select all the reports and notifications you want emailed to a user. For more details about the notifications listed, see this KB article. 
The email address that these notifications will be sent are shown on the blue header bar. If you would like to change where the notifications get sent, you can change your user or add a new logicbroker user and subscribe to the notifications by logging in under that new account. For more info on adding users, click here.