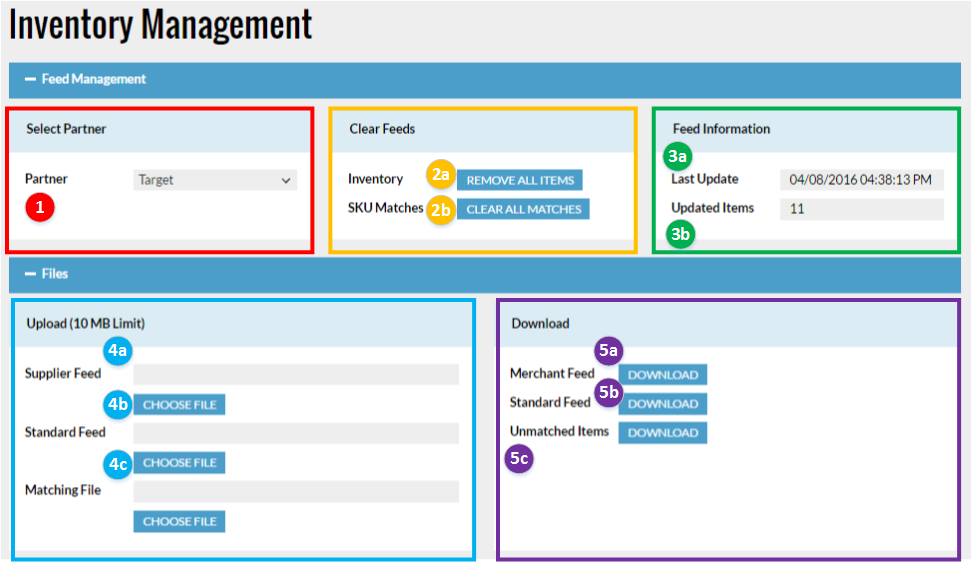 Select Partner
1. Partner: This will be your Supplier or Merchant Trading Partner. When selecting this, you will be able to see all related inventory events for that partner and download or upload product information specific to your relationship with that partner.
Clear Feeds
2a. Inventory (Remove All Items): this will remove all products setup for that trading partner. This removes everything, item identifiers and attributes such as inventory quantity.
2b. SKU Matches (Clear All Matches): This will clear only the merchant SKU from the setup products. This will be used for scenarios where matching was incorrectly processed and instead of deleting all data including all the attributes, only the SKU will be removed. This way when the next matching file is received without those attributes, the SKU will appropriately match and maintain the same attribute values. These values can be inventory Quantity, Size, Color, etc.
Feed Information
3a. Last Update: This will provide you a date and time in UTC of when the last feed was provided by the supplier.
3b. Updated Items: this will provide you a number of items that were updated. This includes the items that are both matched and unmatched; this will be the total number of products in the feed.
Upload
4a. Standard Feed: The logicbroker standard in which all data (Inbound/Outbound) will map to/from. "SupplierSKU" and "MerchantSKU" are always required. This is the canonical format that all inventory will get mapped to.
4b. Supplier Feed: Is the inventory Input sent by the supplier. This is before any mapping rules are processed on the document to format it into the logicbroker standard feed and before the output to the merchant/system. Will always require "SupplierSKU" and "MerchantSKU"
4c. Matching File: This is used to setup the products in the logicbroker standard. This is the base setup that will be used to match all inbound files from suppliers. When a supplier feed comes in, the "SupplierSKU" and "MerchantSKU" combination will be used to update all other standard attributes.
Download
5a. Merchant Feed: Is the output sent to the merchant, provided by the supplier. This can go to an end system, to an EDI merchant or a mapped CSV to the merchant's specifications. In the portal you will only be allowed to download this.
5b. Standard Feed: Provides a downloadable CSV of all products matched in the standard logicbroker format.
5c. Unmatched Items: This is the output of all items that weren't updated with cost and inventory.