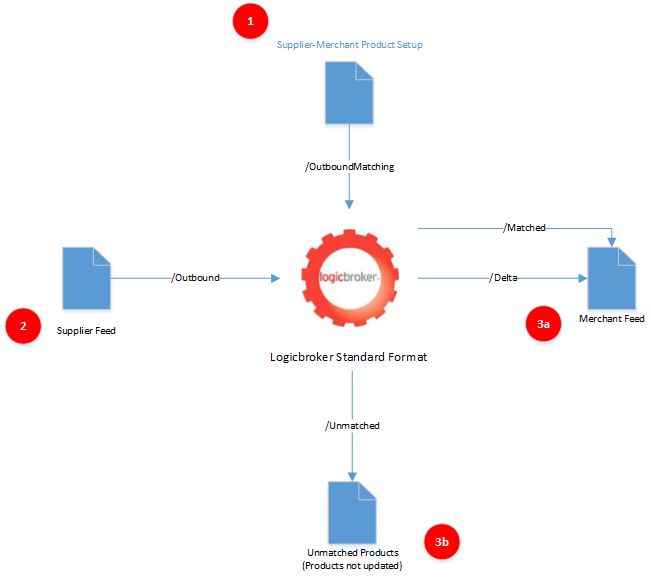 #1 Supplier-Merchant Product Setup
This is the step to first setup your supplier's or merchant's products. By setting up the products into Logicbroker's standard format, this will allow the supplier to send an inventory update which will match against to see which ones are available to update. In addition, this will also allow for easy mapping transformation from CSV to the logicbroker standard and then translation to a customized output CSV.
#2 Supplier Feed
This feed is provided by the supplier to update the merchant's products. Standard updates include cost and inventory. The feed can be uploaded through the portal or through CSV. The format can be customized in to map to the Logicbroker standard. When posting the file via FTP, the supplier map will always be used (if configured). Once the file is posted within seconds it will be downloaded, matched against the logicbroker catalog, and transformed for consumption by the merchant.
#3a Merchant Feed
Once logicbroker processes the supplier feed, it will match against and update all products matched. It will not create new catalog entries for new products. The attributes updated can be any value in the logicbroker standard catalog (besides the MerchantSKU and SupplierSKU). There will be two directories for the merchant to pick up their supplier's information.
/Matched - which will provide a full csv list of all configured products for that partner. The output will always be in the merchant's configured format.
/Delta - will provide a csv of all the products that were updated in the last feed provided by the partner. The output here will always be the merchant's configured format.
#3b Unmatched Products
Occurring at the same time when processing the Supplier feed, logicbroker will also provide a list of products that did not match. This will provide a good report to see what products are not setup in the Logicbroker Standard Catalog, and/or provide an idea if wrong data was sent.