For every user login created in the portal will have access to their company's hosted FTP site. Your logicbroker username and password will be used to logon to both the stage and production FTP sites created on your behalf.
Stage Host: vftp-stage.logicbroker.com
Production Host: vftp.logicbroker.com
**RECOMMENDATION: If you are setting up an automated integration to post your FTP files, it is best to create a new FTP user. This is for in case you change your portal login password it will not affect the integration's login. To add a new user you can follow the instructions here. 
The folders for Receiving CSV documents would be under /CSV/Inbound
The folder for Sending CSV documents would be under /CSV/Outbound

The Sub-directories under each will contain the specific documents you are able to send or receive. The standard documents will be labeled with the following folders - Order, Invoice, Shipment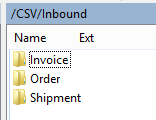 To send Orders you will need to use the /CSV/Outbound/Order directory.
When you receive a shipment or invoice document from your trading partner, as soon as it is received it will appear in the/CSV/Inbound/Shipment or /CSV/Inbound/Invoice directory
**Note inbound files will be batched with multiple documents from multiple partners. Outbound files can also be sent this way as well.