Bulk import tracking information will create Shipments (ASNs) automatically using a spreadsheet (Excel or CSV files). To properly upload your tracking information and create new shipments, you will need to export your orders using the order management page. You can begin by filtering which orders you want to ship. You can select all the orders you want by marking the check box next to the record, or you can elect to export all New orders, or All orders.
In addition, you can also choose to export your orders including Items or just the orders. 
*NOTE: If you choose to export with items, you will have the ability to select which items shipped. If you only choose Order without items, when you upload the file all items will get marked as shipped.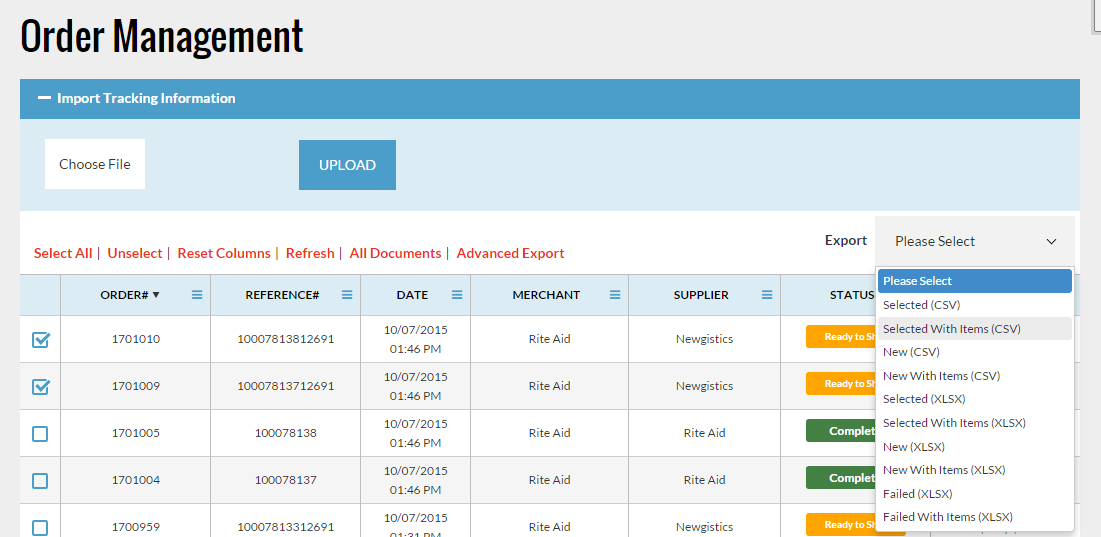 Once you export your list of orders you will need to fill out the following fields:
TrackingNumber
CarrierCode
ShipFromAddress.CompanyName
ShipFromAddress.Address1
ShipFromAddress.Address2
ShipFromAddress.City
ShipFromAddress.State
ShipFromAddress.Zip
ShipFromAddress.Country
QuantityShipped
The key identifier that links to your orders will be the ID column. This is the ID of the document in the logicbroker system.
Once you add your tracking and shipment information, save the file locally to your computer and click choose file to add the file to upload your file. Once you upload, the results will pop up with all successful and failed documents processed. If you are subscribed to receive failed tracking uploads (Tracking Upload Failed), you will receive and email as well.