Magento uses Cron Jobs to help schedule configure workflows. This includes processing orders. 
If you find that an item is stuck in Transmitting Drop Ship status or nothing is happening when it is in the Processing Order State you can view the last time the Cron Job was run. 
Head to dropship360 > Configuration/Setup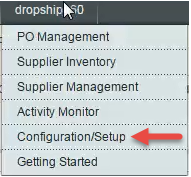 The Cron Schedule Tasks menu shows when the cron job was last run. 

If you find that the Sourcing has not run for some time you should check your server for any errors or issues. 
You can manually trigger the Cron Job by using a scheduler extension such as AOE Scheduler.