When you first install dropship360 extension to your Magento System you should navigate to the Getting Started page.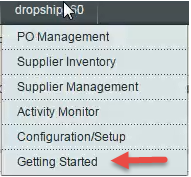 Follow Step 2 and click the link to Update your Logicbroker API Key. 

A pop-up will appear. Add your SOAP API Key (this is like a password). logicbroker is the default user name. Remember your Password. 

This SOAP User information is used to connect to Magento System to the Logicbroker Portal. 
In rare instances this pop-out will continue to appear on every page in Magento requesting you create a SOAP API Key. 
To fix this issue you will need to delete the default logicbroker SOAP User and create a new one. 
1. Navigate to System > Web Services > SOAP/XML-RPC Users and locate the logicbroker user. 

2. Click on the user to open the Details. Delete the user. 

3. From the Users page go ahead and click +Add New User. Complete the Details and Save User. 

4. Follow the steps to make sure that this user is the one connected to the Logicbroker Portal.