dropship360 uses statuses to workflow the order fulfillment process. There are Order, Item, and Drop Ship Statuses. 
Logicbroker will process orders in the "Processing" Order State. Logicbroker then moves these orders based on the Item and Drop Ship Level Statuses. 
dropship360 shows the current Drop Ship Status on a line item basis. Items in an order may be at different points in the drop ship cycle. 

The Drop Ship Statuses work off of the Item Statuses. 
The Drop Ship Statuses are as follows: 
Transmitting: The dropship360 logic is working and locating an appropriate supplier based on the configured sourcing logic rules. 
Sent to Supplier: The sourcing logic rules have found a supplier and the item has been sourced to them. The item is now in the supplier's hand to fulfill. 
Backorder: There is no inventory for this item. Once inventory has been added the cron job will run again and the logicbroker logic will pick this item up. 
No Drop Ship: This item is attached to a Non Drop Ship supplier.
Reprocess: You can select to manually process the order again. 
Completed: Once the item status is moved the Shipped and tracking information has been returned the Drop Ship Status will move to Complete.
If an order includes multiple items one item may move to the Complete Status before others in the order. 
When an ordered item is placed the Drop Ship Status will automatically move to Transmitting and use the Sourcing Logic to select the most appropriate Supplier. The Order Status will be in Pending status.

The Item Status is in the Ordered state.
After the Order has been invoiced or payment has been authorized the Order Status will move to Processing.

The Order Status MUST be in the Processing status/state for Logicbroker's workflow to run.
At a pre-set time the Logicbroker workflow will run and pick up all orders in the Processing/Transmitting states.
The workflow will pick up the ordered item and send it to the selected Supplier. The Drop Ship Status will change to Sent to Supplier.

The Logicbroker workflow will send the order to the Supplier through the selected means of communication – EDI, B2B, or the Logicbroker Supplier Portal. It is now in the Supplier's hands to fulfill.
The Supplier will return Shipping Information on the item. Once that is received by Logicbroker we will send that information back to Magento and the Order, Item, and Drop Ship Statuses will change again.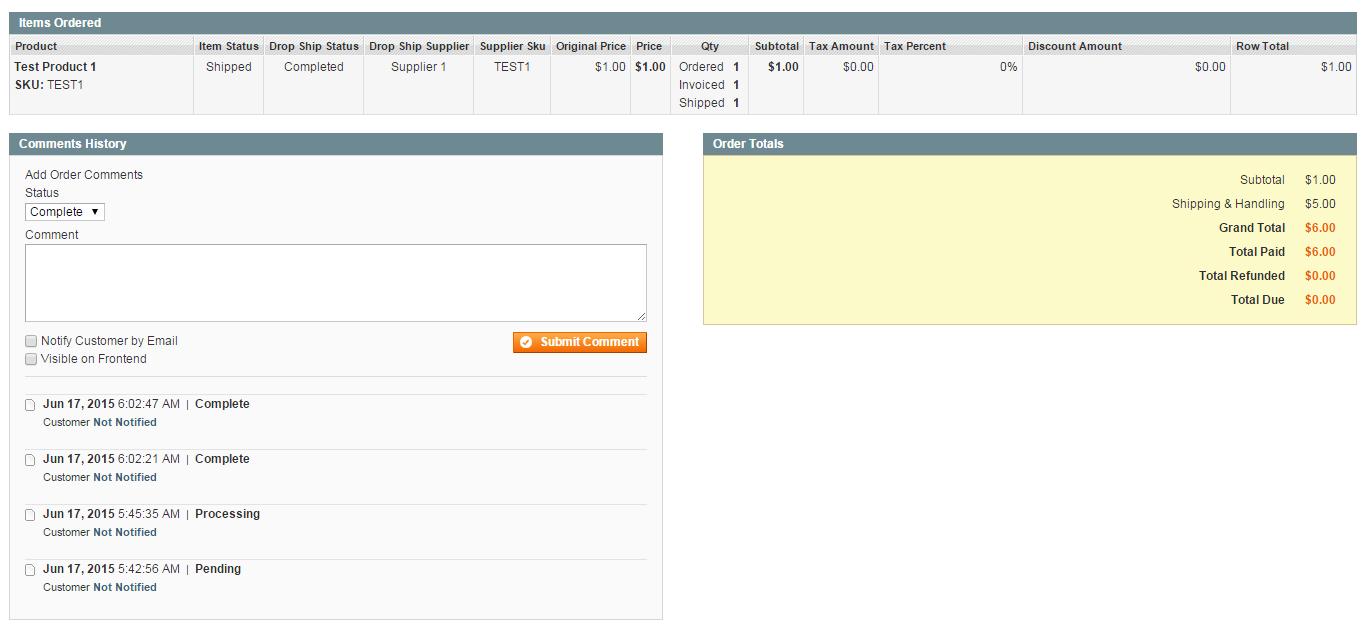 The Drop Ship status moved to Completed and the Order was also moved to a Complete state. The Item Status indicates that the order has been shipped.