The PO (Purchase Order) Management screen shows all items that are running through dropship360's logic. This page allows you to view all orders and their current location in the order lifecycle.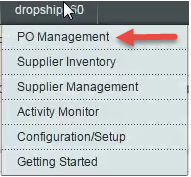 Using the PO Management screen you can: 
Check which orders and items have been assigned to suppliers and the current status/location in the lifecycle
Review each Order by item to confirm it is being sourced fully and correctly
Export the list to CSV or XML format
Review the Drop Ship and Order Statuses
dropship360 shows the current Drop Ship Status on a line item basis. Items in an order may be at different points in the drop ship cycle. 
The Drop Ship Statuses work off of the Item Statuses. 
The Drop Ship Statuses are as follows: 
Transmitting: The dropship360 logic is working and locating an appropriate supplier based on the configured sourcing logic rules. 
Sent to Supplier: The sourcing logic rules have found a supplier and the item has been sourced to them. The item is now in the supplier's hand to fulfill. 
Backorder: There is no inventory for this item. Once inventory has been added the cron job will run again and the logicbroker logic will pick this item up. 
No Drop Ship: This item is attached to a Non Drop Ship supplier.
Reprocess: You can select this open to manually process the order again - 
Completed: Once the item status is moved the Shipped and tracking information has been returned the Drop Ship Status will move to Complete. 
dropship360 processes orders in the "Processing" Order State. It will move to "Complete" once shipping has been returned on every item included on the order. 
Use the Action drop-down to View the Order or View the History. 

Clicking View History brings you to the following page: 

This lets you know if and when the item reached the different order statuses.