Once you have connected the Logicbroker Portal to your Magento Admin Panel and your Supplier has created their Portal account you can begin submitting Test Orders. 
Coordinate with your Supplier to make sure the order process works for both of you. 
If you are testing in your Production Site and orders are already being pulled please follow these steps to make sure Logicbroker only pulls the test order(s). 
Note: Logicbroker suggests first testing in your development site so that you can view changes without affecting your current business. 
1. To begin, log in to your Logicbroker Portal. Navigate to Supplier/Warehouse Management. Locate the Supplier you would like to test with and take of their Vendor ID.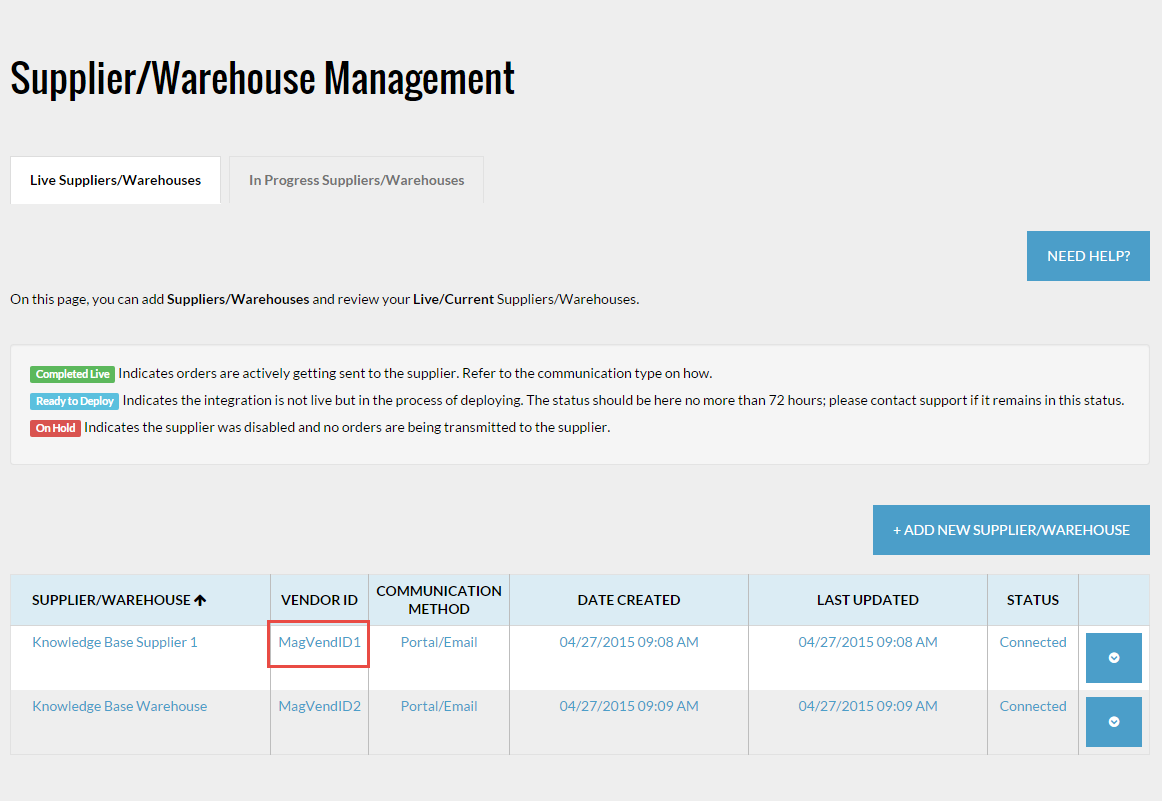 2. In your Magento Admin Panel navigate to dropship360 > Supplier Management. Locate the Supplier you will be testing with. Make sure that the Supplier Code matches the Vendor ID found in the Portal. Additionally, the Supplier needs to be in the Active Suppliers/Warehouse column. If not, simply drag-and-drop the Supplier to correct column. Be sure to save any changes. 

3. Create a test product and assign it to your supplier. If you already have a product you would like to use you can skip this step. 
a. In Magento go to Catalog>Manage Products. 
b. "+Add New Product". This is a simple test product so you can configure it manually. Fill in the required General Information and Price sections. Save. 
c.  Go back in to the product and click on dropship360 Supplier on the Product Information bar.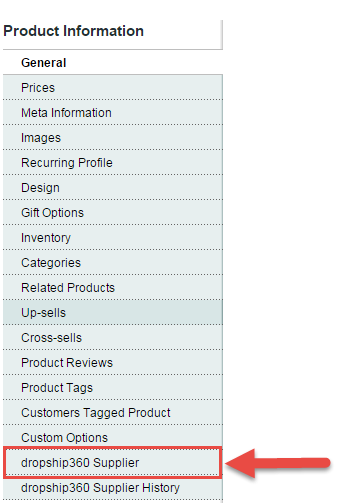 d. Click "+Add New Vendor" and add your Supplier's info - this is the Active Supplier we looked at earlier (cost, inventory, Supplier Sku). Remember: there needs to be "inventory" in order for the test to work properly. 

4. Now create the order. 
a. Under Sales > Order click "+Create New Order" and then "+Create New Customer" or use an existing Test Account. Fill in the information for a new customer. 
b. Click "+Add Products". Find your Test Product and add it to the Order.
c. Complete any remaining information. Submit Order.
d. Depending on the payment method you chose you may need to manually invoice this order to simulate the payment process. Do that now.
e. logicbroker uses Drop Ship statuses on the Item Level to workflow the item through the Order Lifecycle. When the Order Status is in Processing the Magento Cron Job will run and logicbroker will pick up the order. The Drop Ship Status will move to Transmitting. 

f. When the Order is Sourced the Item Status will indicate that it has been Sent to Supplier. 

5. Let your Supplier know that you have created a test order. They can now log in to the Supplier Portal and see the order on the Order Management page. The Supplier should follow the steps to fulfill an order. Once Shipping Information has been returned to Magento the Order Status will move to Complete. 
You can submit as many test orders to as many suppliers as needed. You can add orders and products to test the Sourcing Configuration rules and see what fits your store the best.