With your Magento site connected to the Logicbroker Portal you can now adjust the Sourcing Configuration options to fit your specifications. 
Select Configuration/Setup from the dropship360 drop-down menu. The Configuration page allows you to set your guidelines for Sourcing Logic, Inventory, and Cron Schedules for pulling orders, upload via FTP, and report emails. This Step will only focus on Sourcing Logic, Inventory, and Cron Schedule for pulling orders. The others will discussed in additional steps.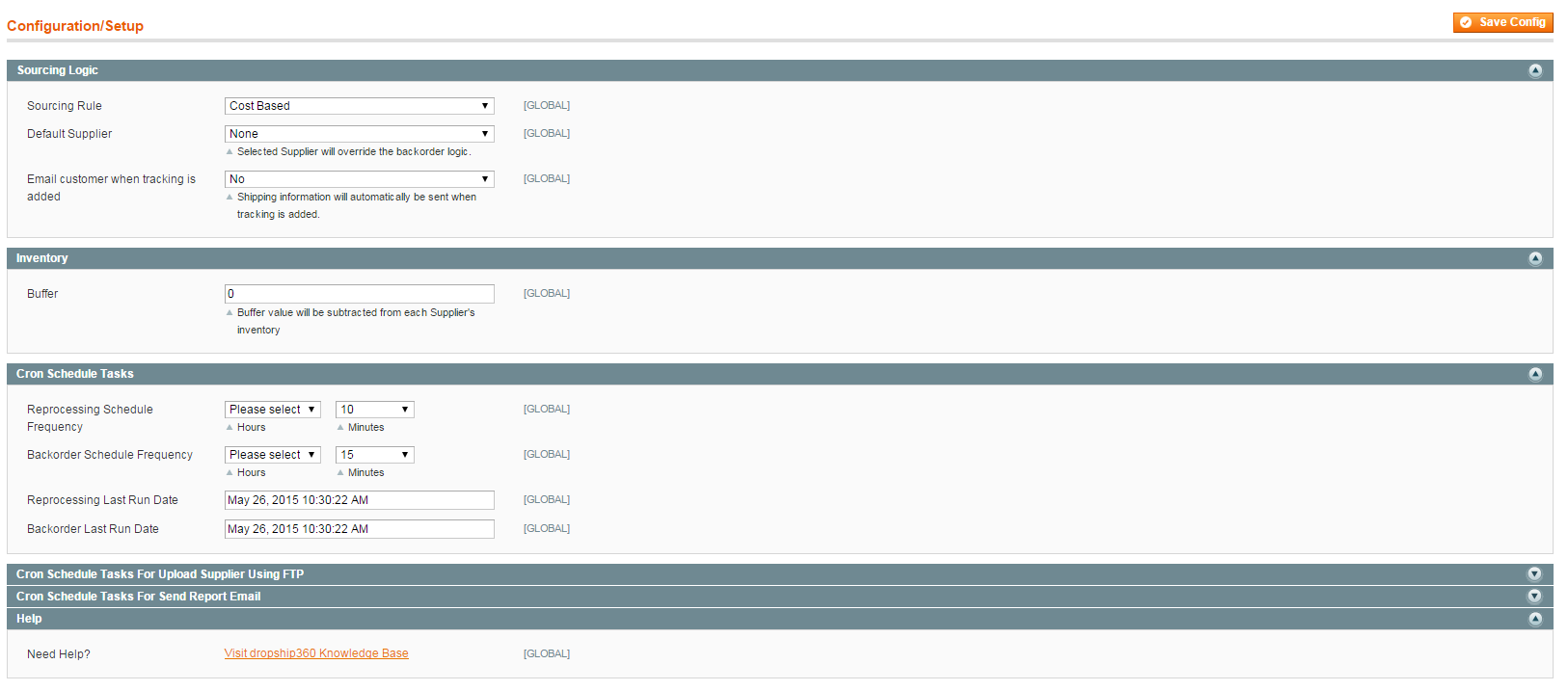 Sourcing Logic: The Sourcing Logic functionality allows you to set the rules by which orders are fulfilled from your suppliers. The Sourcing Logic will help you to maximize your margins when sourcing products from your suppliers. 
Sourcing Rule

Cost Based: By selecting Cost Based sourcing, orders will be sourced from suppliers with in-stock inventory at the lowest cost per item, if the amount of in stock inventory is available. (This is the Default Option). Remember: "Cost" is not the price of the item but rather the amount the supplier charges.
Ranking Based: By selecting Rank Based sourcing, orders will be sourced based on how you ranked your suppliers. Supplier Rankings can be set-up under dropship360 > Supplier Management.

The Sourcing Logic option also allows you to select a Default Supplier from your list of active suppliers. This will override the Backorder status logic and send the order to the Default Supplier until the inventory is in stock.
Additionally, dropship360 allows you to select whether you would like an email to be sent automatically to the customer when Tracking Information is returned to Magento. 
Inventory Buffer: The Inventory Buffer is an optional configuration designed to help decrease the likelihood of selling a product no longer in inventory. When enabled (by inserting a number into the Buffer field) the amount will automatically be subtracted from each individual supplier's inventories.
dropship360 changes the way your inventory is calculated. It updates individual Qtys for each vendor as an aggregate count based on Qtys of the same product for all vendors. The Inventory Buffer subtracts from each vendor's Qtys.
For Example:  An Inventory Buffer of 3 is set. Vendor 1 uploads inventory Qty of 15 for a product and Vendor 2 uploads inventory Qty of 20 for the same product. The aggregate total will be 29. Vendor 1: 15 minus buffer 3 = 12 plus Vendor 2: 20 minus buffer 3 = 17 which totals 29.
Cron Schedule Tasks: Magento uses Cron Jobs to help schedule and configure workflows. dropship360 uses these Cron Jobs to workflow the order fulfillment cycle. Logicbroker allows you to set the time intervals you would like the Cron Job to run to search for new orders and updated inventory. 
The Reprocessing Cron is used to pick orders labeled with the "Reprocess" drop ship status status.
The Backorder Cron will pick up backordered items and continue to source for these items until inventory becomes available. When inventory becomes available then the item status will indicate that is fulfilled. If the inventory level has not changed there will be no status level change. 
The default times are ten-minutes for Reprocessing and fifteen-minutes for Backorder sourcing. You can change these times as you see fit. 
A couple things to keep in mind when configuring the schedule times: 
The average number of orders coming in during the day. You do not want it to source too often if there is a small amount to source and you do not want have gaps between sourcing times if large numbers of orders are coming in. 
The size and ability of your server. Make sure the server can handle the work. 
You can check when the Cron Job was last run from this screen.