Now that you have added a Trading Partner you can begin to connect products to that Supplier. Because dropship360's Sourcing Rules are tied to either Supplier Ranking or Cost-Based Ranking (cost each Supplier charges) products must be connected to each Supplier for the Sourcing Rules to run properly. 
Note: for the most part Logicbroker and dropship360 assumes that you already have products in your Magento Catalog. 
There are several options to help you update products and connect them to your drop ship suppliers. 
1. Individually assign a Supplier to each product. 
Navigate to Catalog > Manage Products > Select a Product > On the left Product Information toolbar you should notice two new tabs: dropship360 Supplier and dropship360 Supplier History. These were added when you installed the dropship360 extension. Click dropship360 Supplier.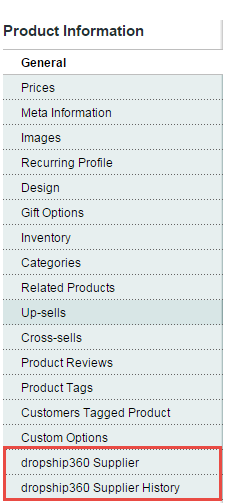 Select the Supplier Code - Name from the drop-down menu, add the Cost, Inventory Level, and unique Supplier Sku. Add as many Suppliers as necessary. Save the Product. If you are adding multiple Suppliers click Save and Continue to Edit to save your work. 

The Sourcing Logic will take into affect when their are multiple Suppliers on a single Product. 
Because this may take a long time to manually add a Supplier to each Product Logicbroker offers additional solutions. Navigate to dropship360 > Supplier Management to locate the additional techniques: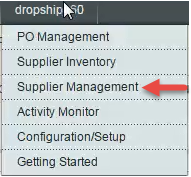 2. Assign a Supplier to every product.
Under Setup Supplier Products use the Setup Supplier on all Products tool. Choose your Supplier from the drop-down menu and click Setup Supplier on all Products. 

This will automatically attach that Supplier to every product in your catalog. A message will appear telling you whether this succeeded or not. 
Note: this automatic update will use the Product SKU as the Supplier Sku and will not provide any Inventory or Cost - this must be done manually or via the next option. 
This option is good when you currently only have one Supplier. 
3. Bulk update via CSV file. 
To start, download a full of list of your current products. The dropship360 extension does require that products already exist in Magento. Download the list of current products by selecting Systems > Import/Export > Export. Choose "Products" as the "Entity Type" and select "CSV" for the "Export File Format". You will only need SKU in the Entity Attributes list. Click "Continue" and the CSV file will download. 
Under dropship360 > Supplier Management download the sample CSV. Update the spreadsheet with the appropriate information. Copy the SKU (Magento SKU) from the exported Magento CSV file  into the supplier CSV file. Complete, or have the supplier complete, the rest of the document – Supplier Sku and add Qty and Cost.
Save the CSV file. On the Magento page choose the file and click Upload. 

Your products have now been added to Magento. Orders are ready to be submitted to your Suppliers.