Use the Settings drop-down menu to access the following pages: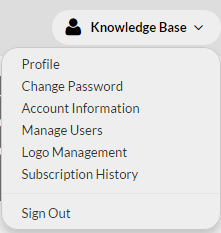 Profile
Change Password
Account Information
Manage Users
Logo Management 
Subscription History 
Profile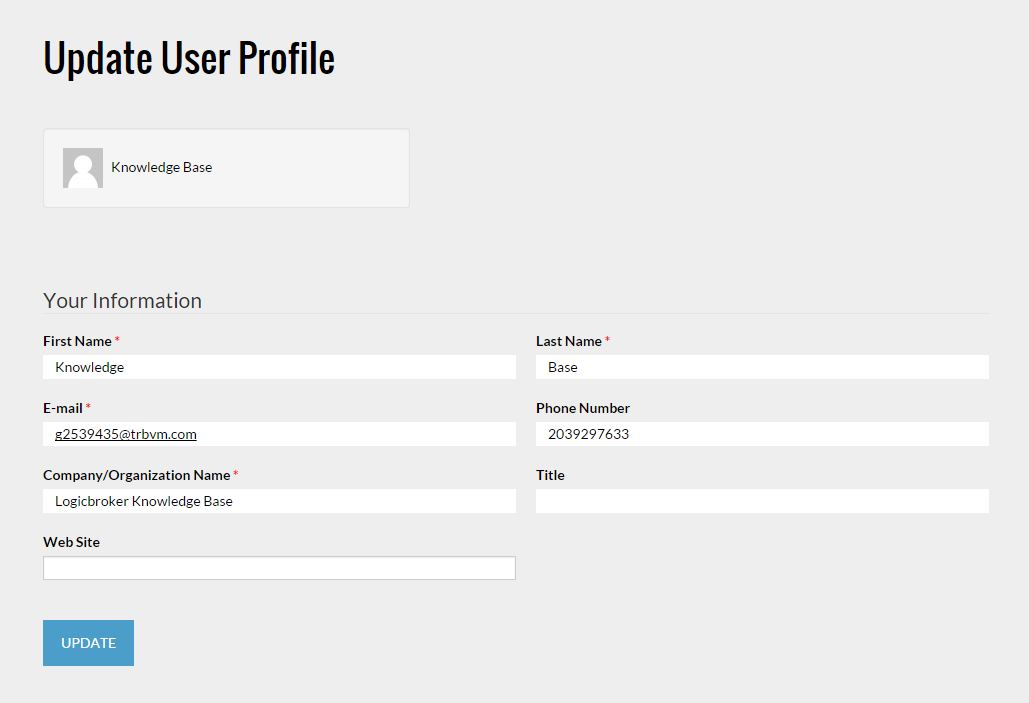 This is your user information that you added when you created your profile. Logicbroker requires first and last name, E-mail, and a Company name. If anything needs to change simply update the field and click Update. 
Change Password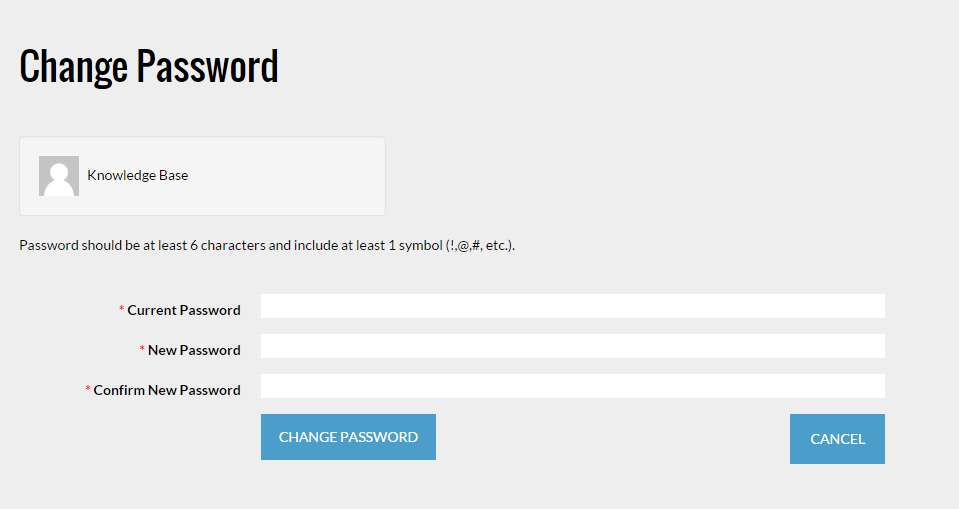 You can change your password at any time for any reason. Note: the Security Question you created when initially configuring your account will not change. 
Account Information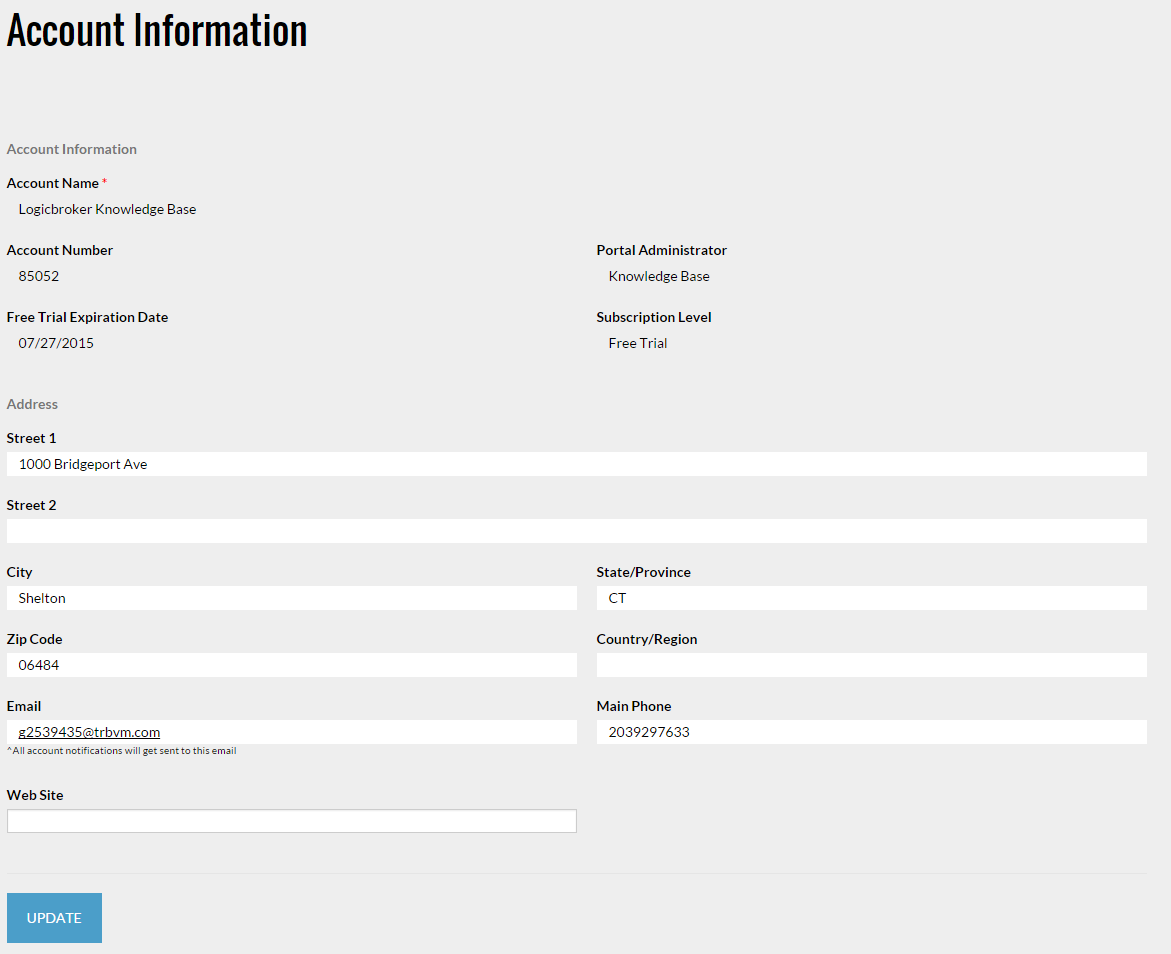 The Account Information page shows your Account Name and Number (this information cannot be changed and is important for Logicbroker to connect you to our systems), the Portal Administrator, as well as your Subscription Level and Free Trial Expiration Date (if applicable). 
Note: The Subscription Level only applies to Merchants - if you are a Supplier the Subscription Level field will indicate "Trading Partner". 
You can update your Address information at any time. 
Manage Users

Here you can manage existing users and create new users for your account. Once a user is added an invitation email will get sent to the new user telling them how to set up a username. You can also use this page to assign Admin privileges which will allow the user to add/edit users and add new trading partners. 
Refer to your subscription level to determine how many users you can add. 
Logo Management 

Manage your branding with the ability to add images and logos. The Company Logo will appear with your Company in various places within the Portal. The Packing Slip Logo will appear on generated packing slips.
If you are a Merchant your Packing Slip will be connected to your Account. Anytime an order is completed by a Supplier for your Company the Supplier will be able to print out the Packing Slip with the applicable image.
Packing Slip Logo: This logo will appear when you generate a new packing slip for a shipment. 
Company Logo: This logo customizes some images within your Logicbroker Portal. 
Subscription History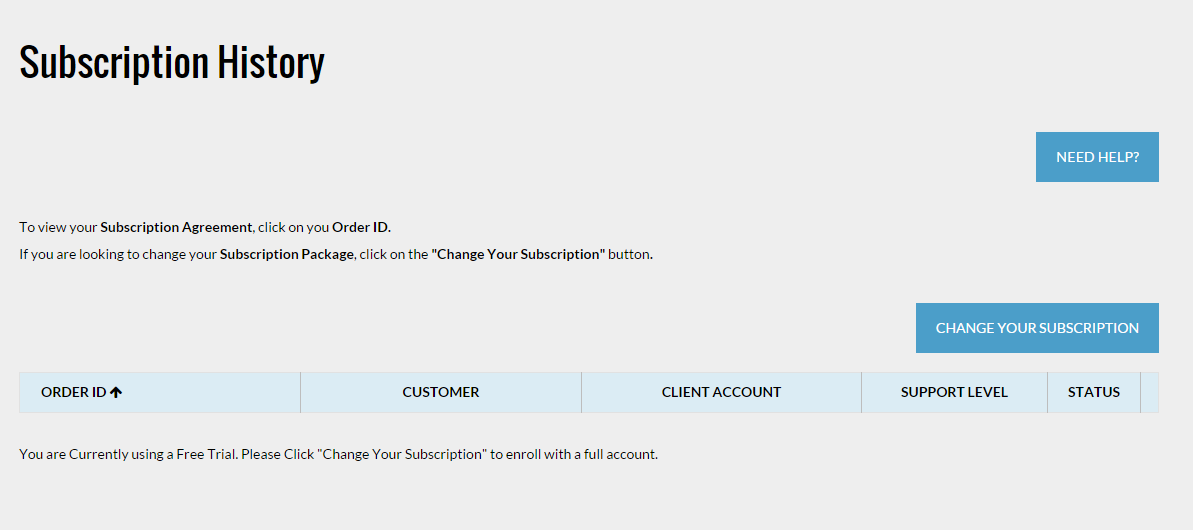 This page allows you to view and change your subscription levels. For more information please see our Pricing Guidelines. 
Remember: the Free Trial will expire in 90 days. Make sure you upgrade your subscription before the expiration date to continue using Logicbroker and dropship360 to its full extent. Contact a Sales Representative at sales@logicbroker.com to discuss your opportunities.