With your Magento system successfully connected to the Logicbroker Portal you can now begin onboarding your suppliers. Follow along with Step 3 on the Getting Started page. 
1. In the Magento Admin Panel. Navigate to dropship360 > Supplier Management.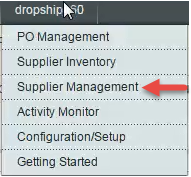 This is where you will be able to add/remove Active (Drop Ship)/Non Active (Non Drop Ship) Suppliers as well as rank them if you have Ranking Based Sourcing active.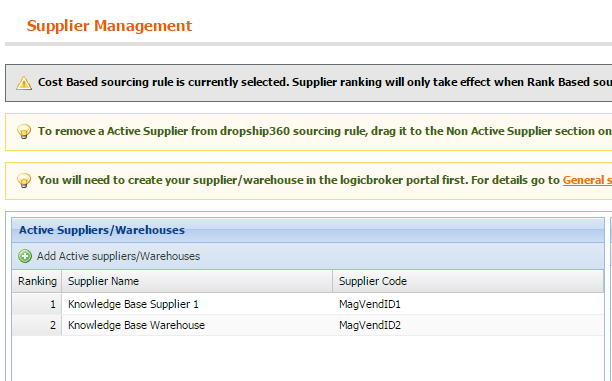 Double-click on a supplier to add its name. The Supplier Code MUST match the Vendor (MagVend) ID automatically generated in Logicbroker.
Example: If the Vendor ID for Supplier ABC is MagVendID1 then you would find Supplier Code MagVendID1 in Magento and add Supplier ABC as its name.    
The Supplier Code and Vendor ID must match in order for Logicbroker to receive the appropriate data. Compare the two above images (Supplier/Warehouse Management and Supplier Management) to review how the Vendor ID and Supplier Code should match. 
6. Give Logicbroker the Supplier Name and Vendor ID matching data.