With your Magento system successfully connected to the Logicbroker Portal you can now begin onboarding your suppliers. Follow along with Step 3 on the Getting Started page. 
1. Log in to your Logicbroker Portal. From the Home page go ahead and click on Supplier/Warehouse Management from the Navigation bar from the left-side of your screen.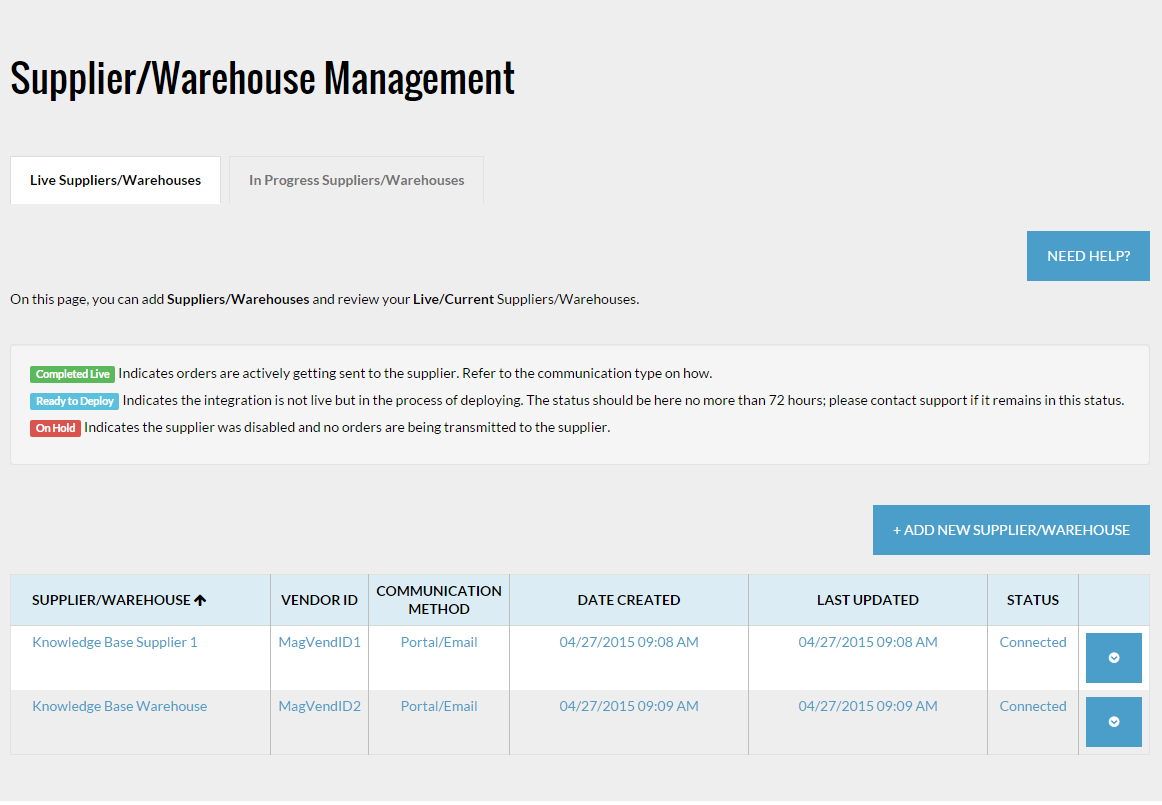 2. The Supplier/Warehouse Management page allows you add Suppliers/Warehouses as well as review your Live/Current Suppliers/Warehouses. Click the "+Add New Supplier/Warehouse" button.
3. On the Add New Supplier/Warehouse page fill out all of the required information.
It is important to have the correct Main Contact Email of your supplier, as this is the email the supplier will use to connect.
The Supplier Type option gives you three choices (choose the most appropriate):
Drop Ship Supplier: The contact who keeps goods in stock, receives orders from the retailer, and ships the goods directly to the customer.
Internal/Managed Warehouse: This is your own warehouse where you store and can ship goods from.
3PL or Fulfillment Center: A 3PL provides logistics services to customers or outsourced supply chain management.
Additionally, your supplier can integrate orders automatically via EDI, XML, and API Integration, please contact a Sales Representative at sales@logicbroker.com for more information. 
4. Once the communication has been sent you will see your supplier(s) listed on the Supplier/Warehouse Management screen.
5. Return to your Magento Admin Panel. Navigate to dropship360 > Supplier Management.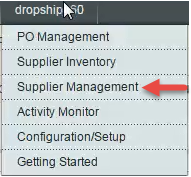 This is where you will be able to add/remove Active (Drop Ship)/Non Active (Non Drop Ship) Suppliers as well as rank them if you have Ranking Based Sourcing active.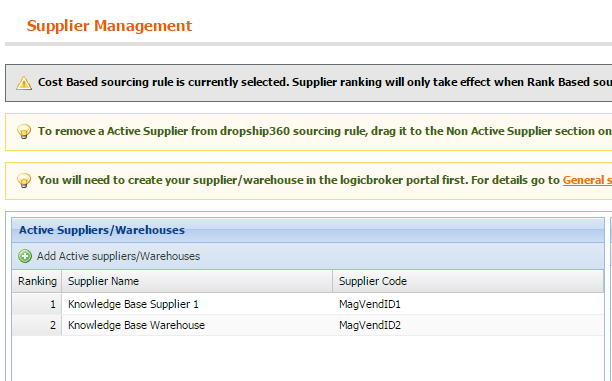 Double-click on a supplier to add its name. The Supplier Code MUST match the Vendor (MagVend) ID automatically generated in Logicbroker.
Example: If the Vendor ID for Supplier ABC is MagVendID1 then you would find Supplier Code MagVendID1 in Magento and add Supplier ABC as its name.    
The Supplier Code and Vendor ID must match in order for Logicbroker to receive the appropriate data. Compare the two above images (Supplier/Warehouse Management and Supplier Management) to review how the Vendor ID and Supplier Code should match. 
6. Your Vendor/Supplier is now connected to both the Logicbroker Portal and the Magento Panel. Contact your Vendor/Supplier to have them create an account so that they will be able to review all orders.