To begin the testing process and generate all test files you will need to login the Logicbroker Stage Portal (https://stageportal.logicbroker.com/).
Once logged in on the navigation menu you will see Testing.

The Testing Status page will provide you a list of all your Retailers available to test with and your current progress.

Click View and you will be taken to view all your test cases for that partner.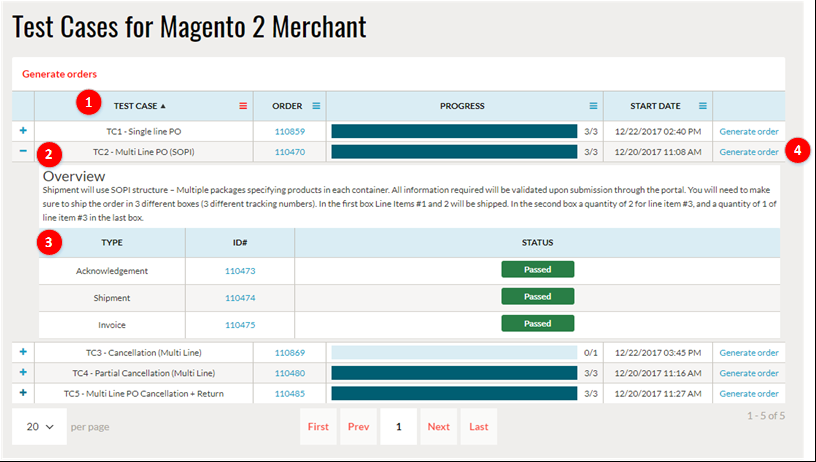 1. Test Case List
These are a list of all test cases required to complete before going live.
2. Test Case Overview
By clicking the + sign next to each Test Case will provide you an Overview of what needs to be completed for that case. The brief instruction will provide details on documents required for the order and what types of processing; for example, partial shipments, cancellations, etc.
3. Documents to Test
Below the cases Overview provides a list of documents that are required to test with the status of the documents submitted by you. Not Passed will indicate the document associated with the order has not been submitted yet or if one was the document failed (an ID# would be shown in that case).
4. Generating Test Orders
Generate order will generate a new test order to be used to submit new tests against. The Generate Orders  link at the top will generate new orders for all the test cases listed on this page. You can generate a new order at any time, even after passing or failing any tests.
Additional Notes:
If you cannot complete a test case due to unsupported functionality, contact support@logicbroker.com.
For details on steps for processing your tests per each document format see these links.