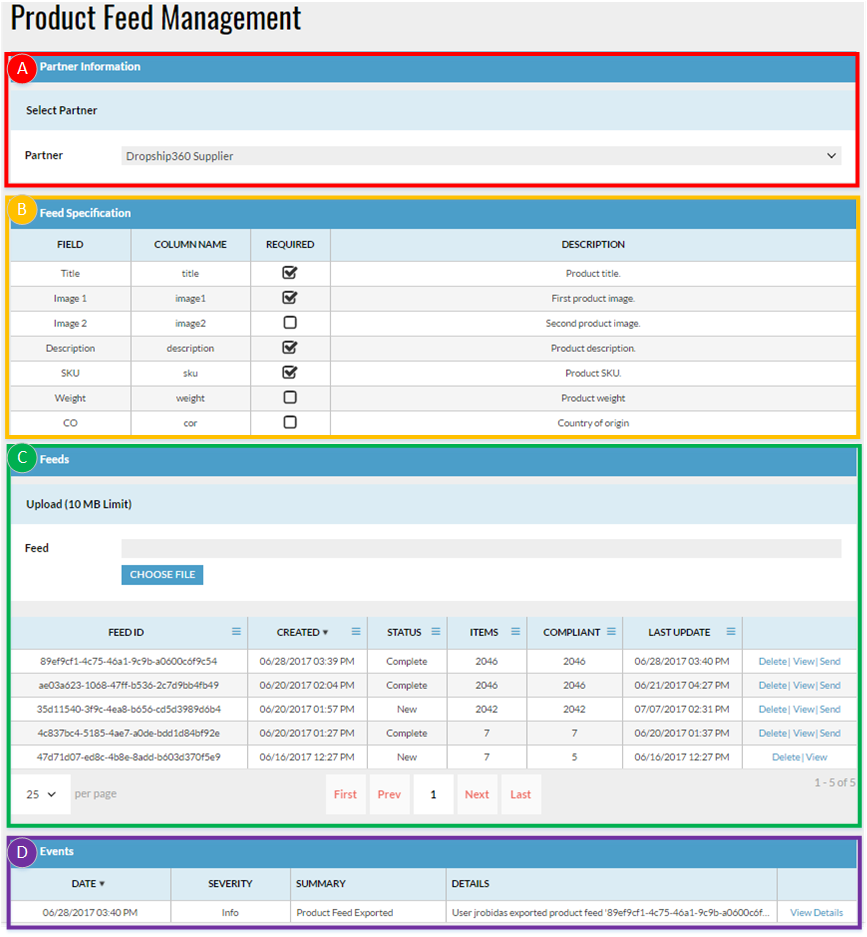 Partner Information
This is where you will select your partner, channel or retailer. From the dropdown you can see who you are connected with. Once selected you can view the product feed specification and all feeds that were processed; as well as have the ability to upload a new file. The partner here is the one receiving the product feed.
Feed Specification
Here you can review the product format that is required to send to your partner or system. It will showcase what columns are required, the field, column name and description of the field. This specification can be built and customized if you need to receive product feeds. If you will be submitting product feeds, the specification will be driven by the marketplace, retailer, or system. If you would like to learn more about customizing your own feed specification, or automating the connection of your product content to a partner contact support@logicbroker.com or enter a ticket.
Feeds
This is where you can manually upload new feeds, review products before sending, send the new feeds and delete incorrect ones.
The list of feeds are shown in the table indicating how many products were uploaded, how many were compliant, the status, and the dates created and updated.  Compliant products are ones that have met all the requirements in the feed specification for the partner selected. For more details on reviewing products see this article.
The general flow for uploading product feeds works like this.
First, you upload your product feed. Logicbroker will check and validate against the partner's specification.
Next, the feed will be submitted in a

New

status, where you can review the results and handle non-compliant data.
Once products a reviewed and non-compliant products updated, you can click

Send

to process the products to your partner. Once the feed is successfully sent, the status will change to

Complete.

All events such as uploading, sending, editing will be logged in the events section.
Events
Every time a new feed is changed an event is triggered. This will be where all changes to product data can be audited and reviewed. In addition, if a field failed when processing to a partner, the details will be provided here as well. The event details will contain the Feed ID associated with the feed sent.